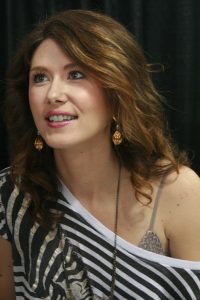 Hollywood star Jewel Staite had her career beginnings when she debuted on the TV movie Posing: Inspired by Three Real Stories in 1991. She next guest-starred in an episode of The Odyssey. In 1995, she made her big screen debut in the film Gold Diggers: The Secret of Bear Mountain. Her first starring role on the small screen was on the Canadian series Space Cases. She later became known for her role as Rebecca "Becca" Fisher on the television series Flash Forward.
Following this, she had recurring roles on the TV shows Honey, I Shrunk the Kids: The TV Show and Da Vinci's Inquest. In the 2000s, she became further known for starring as Kaylee Frye on Firefly, which she reprised in the film Serenity. She next starred as Dr. Jennifer Keller on the show Stargate Atlantis. She continued her prolific career in the 2010s, starring as Raquel Westbrook on The L.A. Complex and Melody Ravensfall on Animism: The Gods' Lake. From 2013 to 2014, she played Caroline Swift on The Killing. In addition, she's starred in the 2015 films How to Plan an Orgy in a Small Town and She Who Must Burn.
The 36-year-old actress takes care of her body and overall health by eating healthily. Recently, she strongly hinted via social media that she follows a Paleo diet. This means her diet mainly consists of meat, fish and seafood, eggs, veggies, and fruits — nothing unnatural or processed. In an interview, she also recounted how she needed to gain weight for her role on the show Firefly that she ate unhealthily for three weeks.
She then admitted that even though she was able to eat anything, it wasn't a good experience. "It was hard. It made me feel sluggish. It just wasn't natural for my body type. And you know, when you're doing something like that, when you're force feeding yourself, when you're eating when you're full, you're eating before you go to sleep, it's not entirely healthy," Staite said.