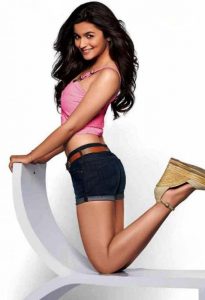 Born into a family of film artists, Alia Bhatt was only around six when she appeared in Sangharsh, her first movie. She didn't pursue acting though as a child and only returned after over a decade. She returned in 2012 in the feature film Student of the Year where she played a starring role. The movie was a success and gained her prominence. She immediately cemented herself as a lead star with the films 2 States and Humpty Sharma Ki Dulhania. For her performance in Highway, she was acclaimed and won awards. She recently won the Filmfare for Best Actress for her role in Udta Punjab. In addition, she starred in the latest box office hits Kapoor & Sons and Dear Zindagi.
The 24-year-old Bollywood star was not always skinny. Prior to her breakthrough in Student of the Year, Alia weighed 68 kilograms during her teens. When she auditioned for the movie, she was still heavier. The film's director Karan Johar even made it clear to her that she needed to lose 20 kilograms within six months for her to secure the female lead. "It was sheer pain. I felt as if I was an ugly duckling. At first, I was embarrassed, but later felt angry that I had gone to meet a director in the shape I was in. I decided to shed weight first, meet him and take the role. Only that would redeem my self-respect," she said of the experience.
She soon underwent dieting and taking up a regular workout routine. Thanks to her dedication and hard work, she lost 16 kilograms in three months. Her fitness regimen primarily involved her doing the following: altitude training, beach running, swimming, kickboxing, weights, functional and circuit training. She also did the following: Running on the treadmill (for warm up), Dumbbell raises, Push-ups, Lateral pull-down, Bicep curls, Triceps push down, Crunches, Back extensions, Lunges and Squats. She did 15-20 repetitions and three sets of each of the exercises. Of course, she continues eating healthy and working out in order to maintain her healthy weight.