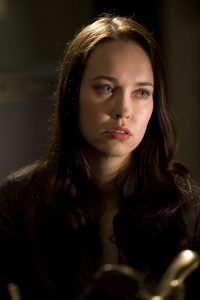 Actress Elyse Levesque had her career beginnings in 1997 when she debuted in the Canadian show Incredible Story Studios. Later in the 2000s, she guest-starred in an episode of MythQuest. Shortly after, she landed her first starring role on television — as Dr. Maxine Rich in the children's series 2030 CE. Subsequently worked in a couple of TV movies, as well as made one-episode roles in various TV shows.
In 2005, she made her movie debut in The Lost Angel. Her next film role was in 2007's Normal. The following year, she starred in the made-for-television movie Journey to the Center of the Earth. Levesque got her big break as a TV actress after getting the part of Chloe Armstrong in Stargate Universe, playing the role of 2009 to 2011. She reprised her role in the miniseries SGU Stargate Universe Kino.
After the series ended, she joined the main cast of Cedar Cove as Maryellen Sherman but the show was short-lived. In 2014, she became wider known for her recurring role as Genevieve in the American series The Originals. In 2016, she was the lead in the Canadian series Shoot the Messenger. After it was canceled, she played Detective Engers in the acclaimed series Orphan Black. She will star in the upcoming Hollywood thriller film Ready or Not.
The 34-year-old actress' fitness tricks are quite basic. She follows an active lifestyle through exercises and eats healthy. "When I'm working, I find that I'm probably way better fed, because everyone's always making food for me. I'm a very healthy eater; I eat a lot of vegetables. Not so much on the fruit side, but I love vegetables. I try to eat a pretty healthy diet," said the Canadian star. As for her indulgences, she says it's chips and French fries but she keeps her salty cravings in moderation.