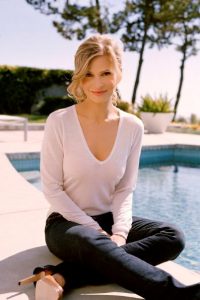 It was in 1982 that Kyra Sedgwick started her acting career. Her debut was in the soap opera Another World. During this period, she had her first notable role in the movie Born on the Fourth of July as Donna. In the '90s, she had roles in the films Singles, Murder in the First, and Phenomenon. In the 2000s, she had roles in the movies Labor Pains, What's Cooking?, Secondhand Lions, and Loverboy.
She then got her major breakthrough after landing the role of Brenda Leigh Johnson in The Closer. For her performance here, she won a Primetime Emmy in 2010. At the same time, she had supporting roles in the films The Game Plan and Gamer. After she left The Closer in 2012, she starred in the films Man on a Ledge, The Possession, The Humbling, and Cop Car. Her latest movie is 2016's The Edge of Seventeen. She has also played Deputy Chief Madeline Wuntch in the sitcom Brooklyn Nine-Nine.
The actress stays in shape by exercising and eating right. Being in her 50s, she understands the importance of proper nutrition not just for maintaining her slim body but sustaining her overall health and well-being. She basically avoids processed and junk foods. She focuses on eating the ones that are rich in essential nutrients. In an interview, the actress also shared how she once struggled with food and her weight. She said:
"Food has never been easy for me. She revealed that she had an unstable eating pattern when she was required to lose 20 pounds to appear in the 1985 movie War and Love. After this, it was hard for her to control her eating. She explained: "I came back from that and it triggered something. I ate everything in sight. My weight went up and then too far down." After having a tough time managing her weight, she said she stopped going on the scale. "I'm so grateful that I don't get on a scale because it's never going to be the right number," she said.