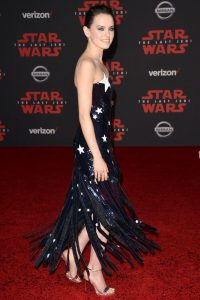 English actress Daisy Ridley had her career beginnings in the 2010s. During her initial years, she made one-episode roles in such shows as Casualty, Youngers, Toast of London, Toast of London, and Mr Selfridge. During this period, she also acted in a couple of short films. She then became a talked-about name after it was announced that she was cast for a starring role in the film Star Wars: The Force Awakens. The movie was ultimately released in 2015 where she played the role of Rey.
She recently reprised her role in the sequel Star Wars: The Last Jedi. Her breakthrough role in the films also led her to land other roles. This includes Scrawl and Murder on the Orient Express. She also worked as a voice actress for the films Only Yesterday and The Eagle Huntress. More recently, it was announced that she landed the titular character in the 2018 upcoming movie Ophelia. She will also star in the 2019 upcoming movie Chaos Walking.
Daisy did a magnificent job playing Rey in the new Star Wars films. Of course, part of her character was also her physicality, which she achieved by training intensely. Starring in an action-packed movie with action scenes most of the time, the actress knew she needed to prep her body extensively. She also needed to acquire a certain look or physique that would make her appear stronger. Then there's also the necessity for her to not only be strong but to be agile as well.
As anyone could imagine, Daisy trained vigorously. But what was her training like? In an interview, the actress said she trained five hours a day, five days a week. Her training hours and the frequency alone are already intense! No wonder she's able to bulk up a bit and no wonder she looks very strong while still maintaining a slender and a toned figure. "Training is sort of a therapy session, I guess," she said of her training experience.