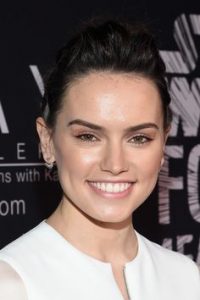 She may be a newcomer but Daisy Ridley started strong in Hollywood. She had initially started her acting career on UK television a couple of years ago. During this time, she had also acted in short films. She went on to make her film debut in Scrawl. Right at that time, she was also cast for the role of Rey in the new Star Wars: The Force Awakens. She starred alongside Harrison Ford and the late Carrie Fisher. The movie was a huge success, catapulting her to stardom. She will reprise her role in the upcoming sequel Star Wars: The Last Jedi. This breakthrough in her career has also led her to secure other big roles in Hollywood, such as the title character in the upcoming 2018 movie Ophelia.
The 25-year-old actress had to undergo vigorous training for her role as Rey in Star Wards: The Force Awakens. It requires her to do so being the movie full of action sequences. Her character in the film is also a fighter, so she needs to be physically prepared, and of course, look the part. One of the goals was for her to have lean yet a bit muscular physique. This is why she focused on having a protein-rich diet, as well as lots of fiber, but with minimal carbohydrates.
To avoid hunger, Daisy would eat five small meals a day, rather than the standard three huge meals per day. This enables the nutrients to consistently be delivered into her body, so that she has energy for her physical training regimen. This also helped in avoiding her sugary cravings. She would eat a huge meal for breakfast, reducing the quantity of her foods subsequently. The last meal of the day was her lightest. Her diet mostly consisted of lean protein, fruits, vegetables and healthy fats. She likes eating avocados and nuts.