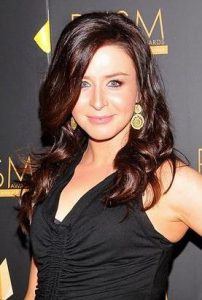 Canadian beauty Caterina Scorsone had her career beginnings in the mid-1990s. During her early years, she mostly landed one-episode roles in television shows, as well as acted in a few TV films. She later appeared in four episodes of Goosebumps. In 1998, she made her film debut in The Hairy Bird, followed by the movies Teen Knight and The Third Miracle.
She next landed her first starring role on the small screen – as Michelle Parker in Power Play. Afterward, she joined the main cast of the series 1-800-Missing as Jess Mastriani. She went on to play the titular character in the TV movie Alice, which got her nominated for a Gemini Award. In the 2010s, she came to wider prominence thanks to her role as Amelia Shepherd in Private Practice and Grey's Anatomy. She also appeared in the 2014 movie The November Man.
The 36-year-old actress maintains her health and fitness by sticking to healthy foods. She always does her best to follow a clean diet plan. With this, she mostly avoids eating processed and junk foods. She steers clear of those food items that are loaded with refined sugar and salt. Not only are they the worst when you're trying to maintain a healthy weight, they're also bad for the health in general. There are so many medical problems that these ingredients can cause.
This is the reason why Caterina prefers making her own food. This way, she knows what exactly she's putting into her body. While the TV star does not follow a specific diet plan, she makes sure she eats healthy by choosing mostly lean proteins, whole grains and other fiber-rich foods such as veggies and fruits. First thing in the morning, the actress starts her day with a healthy breakfast. She usually has an egg or oatmeal with a glass of fruit juice or a cup of tea. For lunch, it's chicken and salad. For dinner, she eats light with a bowl of soup and some veggies or a light tuna sandwich.