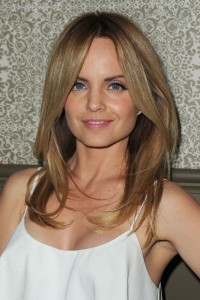 American actress Mena Suvari was first a model before finally finding her place in the acting industry, achieving her big break in 1999 for performances in American Pie and American Beauty, the latter of which got her a BAFTA nomination. She went on to reprise her role in the American Pie sequels, American Pie 2 and American Reunion. Having a prolific career, she has starred in other feature films throughout the years, including Trauma, Rumor Has It, Factory Girl, and Day of the Dead. Her most recent work on the cinema was in Badge of Honor (2015). Mena also acted on television, notably in Six Feet Under, American Horror Story: Murder House, and Chicago Fire.
Mena's sex appeal cannot be denied and this even helped her portray her role effectively in American Beauty, which not only garnered her the attention of both men and women, it also brought her to the attention of movie critics for her remarkable performance. Standing at 5'3 1/2, Mena is a petite actress with a fierce face. Now that she's in her late 30s, the actress takes care of herself even more to maintain not only her curvaceous figure, but also keep her feeling fit and healthy.
Interestingly, Mena's diet plan contains lots of whole grains as well as organic food such as some fish with low mercury content and meat. When asked about her eating habits, she said: "I don't eat meat unless it's organic. I eat fish, but there are certain fish I won't eat because of the mercury content. I don't eat sugar. … I've eaten my share of junk." Wanting to protect herself from harmful substances, she avoids drinking coffee and only drinks tea once in a while. She also doesn't smoke as part of practicing a clean lifestyle. She said she got more inspired to practice a healthy diet after meeting her nutritionist.