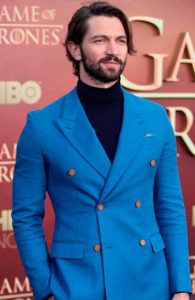 Dutch actor Michiel Huisman's career in Hollywood continues to flourish. Starting his journey on Dutch screen, he eventually moved to the US to expand his career. His venture into American television first happened with the TV series Treme. He played a main role on the show. During this period, he had recurring roles on Nashville and Orphan Black. It was, however, his role as Daario Naharis on Game of Thrones that got him further known. On the big screen, he appeared in the films World War Z and Wild. He starred in the movies The Invitation and The Age of Adaline. He's also recently starred on the miniseries Harley and the Davidsons.
The 35-year-old actor enjoys his recent fame in Hollywood. As he does, he also makes sure that he continues his physical training to maintain his incredible physique. The actor not only observes proper nutrition, but also tries his best to work out regularly. This is to ensure that he remains fit, lean and healthy. His body frame is actually muscular, but not too much. He knows how to manage his body and how it looks. The Game of Thrones actor maintains his training not only to look great, but to also feel strong.
With loads of projects, the actor knows he needs more energy to handle everything that needs to be done. In an interview, the actor also shared how he had a personal trainer before, but because of his very busy schedule, he now opts to exercise on his own. He said: "I work out on playgrounds at 6 in the morning. I did work with a trainer for a long time but not anymore. I don't have time for it, so I just do it wherever I can. Body weight." Thus, Michiel is all about using his own body strength when working out.