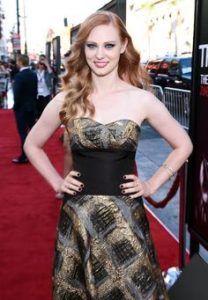 American actress Deborah Ann Woll started her Hollywood career in the late 2000s. She initially appeared as a guest part on a couple of shows. She got her break shortly after getting the part of Jessica Hamby on True Blood. She has since stayed on the show as a main character until the series finale in 2014. While on the show, she appeared in the movies Mother's Day, Catch .44, and Ruby Sparks, among others. After True Blood ended, she got the role of Karen Page on the Netflix series Daredevil. She still stars on the show up to present. She will reprise her role on the upcoming series The Punisher.
The beautiful actress is now a television staple thanks to regular roles on hit shows True Blood and Daredevil. She's also noticeable for her modelesque figure. Standing at 5'10, she has a slender and curvaceous figure at the same time. What could be her workout routine and eating habits? In an interview, the actress jokingly said how she's tired of answering workout routine questions. Still, it doesn't mean she does not work out. Looking at her body and considering that she's health conscious, she definitely exercises.
Deborah Ann already considers her job as a form of exercise. She stars on a kind of a superhero show, so that's something, right? The show is also quite huge, so the actress prepares herself not only physically, but her general health. Aside from eating right, it is also important to be active through workouts to improve one's stamina and strength. Working out also ultimately makes you more energetic. Thus, working out regularly is needed by people who are always on-the-go like the actress to go through a day productively. The Daredevil star actually contents herself with cardio. She likes running and swimming. When she has time, she likes doing outdoor activities with her friends.