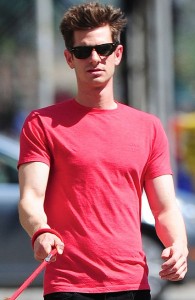 American-English actor Andrew Garfield just came to our attention in the beginning of 2010s for his supporting role in The Social Network. Prior to that, he was already appearing as supporting characters in other films beginning with the British feature Boy A and the American movie Lion for Lambs. He also had a supporting role in The Other Boleyn Girl. For her performance in The Social Network, he was nominated for a Golden Globe and a BAFTA Award for Best Supporting Actor, proving his knack for acting. His new-found significant attention led him to be chosen for the role of Peter Parker in the latest reboot of Spider-Man, which was called as The Amazing Spider-Man released in 2012. The movie was also an international success made more sensational by his relationship with Emma Stone, which he went on to start dating. He reprised his role in The Amazing Spider-Man 2 two years later.
32-year-old star as certainly established himself as a sought-after actor. His portrayal of Peter Parker was just remarkable and entertaining at the same time. Standing at around 5'11, Andrew has an average stature but he surely can still play an effective superhero that he is. Just because he doesn't have a chiseled-looking body does it mean that he doesn't work out. Working out is not just about looking buff, it's also about feeling strong and achieving that agility necessary for playing an action figure.
Interestingly, Andrew didn't have an athletic background. He wasn't into sports that much and didn't really engage in other activities. Thus, working out seriously for The Amazing Spider-Man was a new experience for him. For that said role, he worked with personal trainer Armando Alarcon where he was required to work out five times a week. His trainer had him perform Pilates to increase his core strength and make his body more limber. Plyometric exercises also helped a lot with some being box-jumps, squat jumps, clap push, ups, sprint training, and bouncing exercises. To achieve a more athletic physique, he underwent intense strength training with dumbbells.