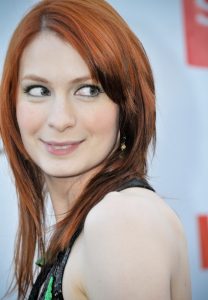 Hollywood actress Felicia Day had her career start in the early 2000s. Her first notable role on the small screen was as Vi in Buffy the Vampire Slayer. Her first role in a major film was in 2004's Bring It On Again. She later had roles in the TV films Warm Springs and Mystery Woman: Vision of a Murder. She came to attention after creating and starring in the web series The Guild.
The show aired on YouTube from 2007 to 2013. In the 2010s, she also had recurring roles in Roommates and Dollhouse. She next played Dr. Holly Marten in the Syfy series Eureka. She became further known for her role as Charlie Bradbury in Supernatural. Her latest work on television is as Kinga Forrester in Mystery Science Theater 3000. She's also currently doing voice work for the Netflix series Skylanders Academy.
The 38-year-old actress stays in shape by trying her best to eat healthily most of the time. As much as she could, she opts clean and whole foods. She also makes crucial effort to stay away from processed foods, though she admits this to be hard. In general, she watches what she eats and practices moderation. She also tries her best to steer clear of fast foods. In a reply on Twitter, she was noted for saying: "It's the post-production phase of eating fast food that takes the experience all downhill."
She also revealed that she feels bad after eating fast foods, saying: "I meant I had a tummy ache but I can see how that could be misinterpreted LOL." For this reason, she prefers eating naturally healthy foods. For her, the logic is pretty simple: she eats something healthy and she feels great, she eats junk and she feels terrible. Thus, it's pretty much a clear motivation for her to avoid junk foods and focus on eating healthy ones.