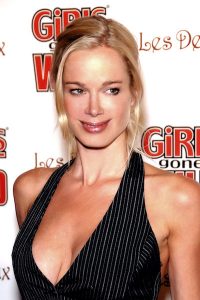 Hollywood star Jennifer Gareis first appeared as an extra in the 1996 film The Mirror Has Two Faces. After this, she landed the role of Grace Turner in the soap opera The Young and the Restless, which she starred in from 1997 to 2004. During this period, she also appeared in the films Private Parts, Gangland, Luckytown, The 6th Day, Miss Congeniality, and Boat Trip. She also guest-starred in an episode of Diagnosis: Murder and Veronica Mars.
Gareis became further known after she began playing the part of Donna Logan in the soap opera The Bold and the Beautiful, which she still stars in up to present. During this period, the actress starred in several independent films, including What Boys Like, Air Strike, Venus on the Halfshell, and Panic Button. Also, she returned to the show The Young and the Restless to play Grace Turner again in 2014. After this, she starred in the film called Infernal. In 2016, she appeared in an episode of Comedy Bang! Bang!
Already in her 50s, Jennifer Gareis stays in shape by following a healthy lifestyle. She exercises on a regular basis, as well as eats well by being cautious in her eating habits. Even during her younger years, the actress already practiced healthy living as she was a competitive swimmer. "From ages 5-21 I was a competitive swimmer so staying in shape is almost innate. I probably learned to swim before I learned to walk," said Gareis.
Apart from her fitness regimen, she also keeps her body fit and strong by nourishing it with healthy food. "Diet is also a big part. I eat a healthy and well balanced meal 95% of the time. I splurge on occasion but usually not the norm," she said.