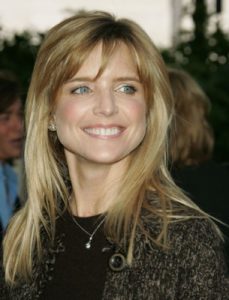 It was in 1986 that actress Courtney Thorne-Smith got her start in the show business. She made her film debut in 1986's Welcome to 18, followed by the movie Lucas. Her first TV appearance was as Stacey Hamilton in the short-lived series Fast Times. She next starred as Kristin Carlson in the TV series Day By Day. Following this, she played recurring character Kimberly Dugan in L.A. Law. She got her break after she got the role of Alison Parker in the drama series Melrose Place. She was part of the show's main cast from seasons 1-5.
Afterward, she got the role of Georgia Thomas in Ally McBeal, garnering greater stardom among television audiences. In the 2000s, she was best known for starring as Cheryl in the long-running sitcom According to Jim, which aired on television from 2001 to 2009. After the show ended, she starred as Lutie Parker in the TV movie Sorority Wars. From 2010 to 2015, she became known for her role as Lyndsey McElroy in the sitcom Two and a Half Men. She recently played the titular character in the made-for-television movie Site Unseen: An Emma Fielding Mystery.
Aside from making sure she follows a well-rounded diet, the television star also exercises to maintain her healthy weight and her overall fitness. Her regular workout routine includes running, Pilates, and yoga. She also lives an active lifestyle by multi-tasking, such as walking her dog while catching up with her friends. She's even a fan of the outdoors that she hikes two to three times a week.
"I walk for an hour or two with my friends. But on other days, I'll go at six in the morning with Ed, my 12-year-old basenji. The dog is always running, trying to get me to speed up. If I'm well-rested, I go pretty fast, about four miles an hour," she said. Walking has some amazing benefits for the actress. She said: "Walking makes my legs longer and leaner, and it firms my thighs more than running. It's a butt-killer at the end, but the results make it worth it!"