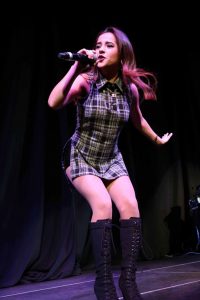 It was in 2008 that Mexican-American actress and performer Becky G got her start. She made her acting debut in the 2008 short film El Tux. She got attention in the 2010s after she started posting song covers online. In 2013, she released her debut single "Becky from the Block". That same year, her first EP, Play It Again, came out. Subsequently, her second single "Can't Get Enough" was released. It was, however, the release of the song "Shower" that earned her greater prominence. She has since released the songs "Can't Stop Dancin'" and "Break a Sweat". She's also ventured into movies, making her debut in 2011's House of Sin. This year, she starred as Trini/Yellow Ranger in the movie Power Rangers. She's also appeared as Valentina Galindo in two episodes of Empire.
The 20-year-old strives to live a healthy lifestyle. Even at a young age, she wants to establish a diet that's clean and a lifestyle that's active. So, she tries her best to make healthy choices. She does this not only to maintain her skinny figure but to feel beautiful inside and out. She also has an advice for those who struggle with their body and fitness routine. She said: "Take it at your own pace. Don't push yourself too hard, but also don't take it easy on yourself. You know your limits."
She added: "Just start with running, jogging, even going walking. And now I've just started to get into it a little bit harder, training, learning some kickboxing, getting in on the abs and stuff. So now that I've built up this courage to go harder working out, I feel better. So everybody at their own pace." By leading an active lifestyle, she's able to be more efficient in her everyday tasks as she has more than enough energy.