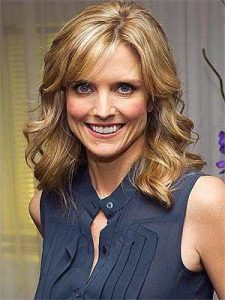 Hollywood actress Courtney Thorne-Smith had her career start in the 1980s. She made her television debut as Stacey Hamilton in the series Fast Times. At the same time, she made her first movie role in Welcome to 18. She also appeared in the movie Lucas. Her next film roles were in Revenge of the Nerds II: Nerds in Paradise and Summer School. She also starred as Kristin Carlson in the show Day By Day.
Her career in the 1990s became more prolific. During this decade, she was widely known for her role as Alison Parker in Melrose Place. After this ended, she played Georgia Thomas in another famous show Ally McBeal. In the 2000s, she was best known for starring as Cheryl in According to Jim. From 2010 to 2015, she went on to play Lyndsey McElroy in the sitcom Two and a Half Men. Her latest work on television was a guest appearance in Fresh Off The Boat.
The 50-year-old actress stays in great shape by following a healthy eating lifestyle. But it wasn't always the case for the TV star. This was once a time where Courtney dieted excessively to the point of being unhealthy because she wanted to stay slim. Of course, being slim isn't always the same thing as being healthy. The actress shared that she would usually eat tiny portions of salad and fruits each day to make sure she stays slim.
Talking about her previous experience, she said: "I felt terrible. I was exhausted: 300 calories don't give you a lot of energy." Realizing the health-related dangers of inappropriate dieting, she eventually changed her ways and adopted a healthier diet plan. Now, she makes sure that her diet consists of lean protein, vegetables, and fruit. She also doesn't apply a strict dieting plan to herself anymore. She allows herself to eat as long as she practices balance and moderation.