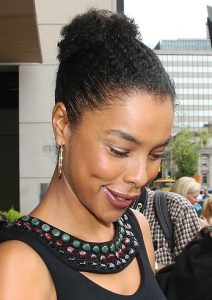 In 1991, actress Sophie Okonedo started her acting journey playing the part of Tracy in the movie Young Soul Rebels. Some years later, she appeared in the films Go Now and Ace Ventura: When Nature Calls. That same year, she played the part of Moira Levitt in the ITV drama The Governor. She next starred as Kelly Booth in the medical drama Staying Alive. She also appeared in such movies as The Jackal and This Year's Love.
Her career flourished in the following decade. After starring in the 2002 film Dirty Pretty Things and in the TV show Clocking Off, she received much acclaim for her performance in 2004's Hotel Rwanda. For her work, she was nominated for an Oscar for Best Supporting Actress. She subsequently starred in the films Æon Flux, Stormbreaker, Scenes of a Sexual Nature, Martian Child, and The Secret Life of Bees. Her performance in the 2008 movie Skin earned her a British Independent Film Award nomination for Best Actress.
She was also praised for her acting in the miniseries Tsunami: The Aftermath, which got her a Golden Globe nomination. She also played Jackie 'Jack' Wolf in the miniseries Criminal Justice, as well as portrayed Winnie Mandela in the TV movie Mrs. Mandela. Both roles gained her BAFTA nominations. She also continued her film career with roles in the movies After Earth, War Book, Christopher Robin, Wild Rose, and Hellboy. Currently, she stars as Charlotte Wells in Ratched. She will star in the upcoming series The Wheel of Time.
Apart from her diet plan, Sophie Okonedo maintains a healthy body by staying active as well. Exercise is part of her lifestyle and she tries her best to do more of it, although her workout routine is pretty simple. "My main form of exercise is my bike. I don't have a car, so I cycle everywhere," said the actress. "I'm also a big walker. When I'm not working, I meet my best friend, Esther, and we walk. I do yoga occasionally and a bit of meditation."