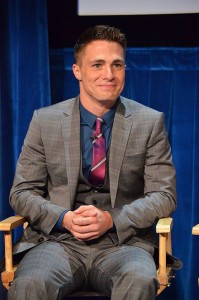 American model and actor Colton Haynes is perhaps best known for his work on television, such as in Teen Wolf and Arrow. Beginning his career as a model when he was in his mid teens and later becoming notable for his appearances in Abercrombie & Fitch ad campaigns. He eventually ventured into acting in 2007 with his cinematic debut in Transformers. At the same time, he also landed one-episode roles on the small screen. He ultimately got his first regular role in The Gates and Look: The Series, but both only lasted a season. His breakthrough on television was as Jackson in Teen Wolf, and later as Roy Harper in Arrow. He's also recently appeared in the film San Andreas released in 2015.
The 27-year-old actor is a familiar face among television viewers courtesy of her notable roles in two popular TV shows. Aside from him being awesome in the said shows, Colton also catches everyone's attention by his good looks, that includes his toned and athletic body. Naturally, the actor has to take care of his physical self because he's a model and to look amazing is part of his job. This also applies in the acting industry. But Colton doesn't only think about he looks, he also prioritizes his health, his overall well-being.
As an actor, he also needs to adjust his abilities to perform action scenes, particularly in Arrow where he played the vigilante's protege, turning himself a kind of a superhero as well. Given this, Colton undergoes serious training with his personal trainer David Buer. Thus, he works out five days a week to be able to enhance his physical abilities. Interestingly, the actor is also very fond of yoga, which he believes is an efficient method to burn calories. Of course, he shifts to cardio workouts and resistance training when his purpose is to improve his muscles. In addition, Colton likes cycling as a form of exercising.