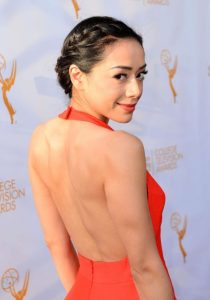 Hollywood star Aimee Garcia had her career beginnings in the mid 1990s. She became more prolific in the 2000s with mostly guest roles in the beginning of the decade. She also starred on the Disney TV movie Cadet Kelly. She went on to appear in the films D.E.B.S., Spanglish, and A Lot Like Love, among others. She went on to have notable roles on the TV shows Greetings from Tucson and All About the Andersons. She then became known for her starring role as Veronica Palmero on George Lopez. Afterwards, she starred as Marisa Benez on Trauma. In the 2010s, she starred as Jamie Batista on Dexter and Yvonne Sanchez on Vegas. As of 2016, she stars as Ella Lopez on Lucifer.
The television star already nears her 40s, but she still looks amazing with her flawless appearance. It is notable how slender she still is. This is because she mostly loads her body with nourishing foods. The actress knows how important it is that she maintains a healthy diet, especially since she's already in her crucial age where her metabolism has already slowed down. Eating healthy also keeps her maintain her energy, so she can last the day strong and energetic.
According to the actress, her diet mostly consists of protein. From morning to night, she also makes sure that she incorporates fruits and veggies in her diets. Hydration is also crucial for her. She said: "I drink a TON of water – like a gallon a day!". She added: "People underestimate how quickly your skin becomes dehydrated, especially when you're traveling which I do a lot because we're shooting in San Francisco and I live in LA." She also focuses on eating lean proteins, whole grains, and as mentioned, fruits and vegetables. With her very healthy eating habits, Aimee looks youthful and fabulous as ever.