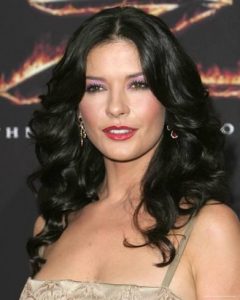 Hollywood star Catherine Zeta-Jones got her beginnings in the early 1990s. She debuted in the French-Italian film 1001 Nights in 1990. She next portrayed Beatriz Enríquez de Arana in the movie Christopher Columbus: The Discovery. She later had roles in the films Splitting Heirs, Blue Juice, and The Phantom. Her international breakthrough came as she played the role of Eléna Montero in 1998's The Mask of Zorro. She next co-starred with Sean Connery in the movie Entrapment. In the 2000s, she starred in the films Traffic, America's Sweethearts, Chicago, Intolerable Cruelty, and The Terminal.
She went on to star in several other mainstream films, such as Ocean's Twelve, No Reservations, and The Rebound. She also reprised her role as Eléna De La Vega in 2005's The Legend of Zorro. After a three-year hiatus, she returned to the screen with the 2012 film Lay the Favorite. Afterward, she played Patricia Whitmore in the movie Rock of Ages. She later had performances in Playing for Keeps, Broken City, Side Effects, and Red 2. Her latest work on the cinema was in 2016's Dad's Army. Following this, she portrayed Olivia de Havilland in the FX series Feud: Bette and Joan. This year, she portrayed Griselda Blanco in the made-for-television film Cocaine Godmother.
Apart from her healthy diet plan, the actress stays in shape by following an active lifestyle. She has a home gym, for starters, which means she can workout whenever she's free at home. Exercising is a crucial part of her life, not only for maintaining a healthy weight but for also keeping her away from a stressed mind. She also likes other activities such as swimming and sports like tennis. The actress is also a dancer and tap dancing is something that she's very fond of, so she uses this as a form of exercise as well.