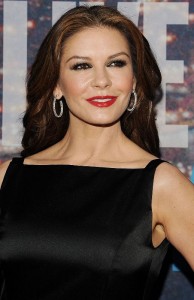 Welsh actress Catherine Zeta-Jones has been in the industry long enough to garner worldwide recognition. Her knack for acting and her undeniable beauty contributed to her rise in stardom in Hollywood, something she still enjoys in the present despite being in her mid 40s. Initially starting her acting career on stage when she was only 12, she later pursued work on the screen in the UK, though she made her movie debut in a French feature. It was in 1998 that she achieved international fame when she landed the female lead in The Mask of Zorro. Starring in Entrapment the following year established her as a ferocious leading lady. Prominence continued in the 2000s, first with Traffic for which she was nominated for a Golden Globe for Best Supporting Actress. She then won her first Oscar for Best Supporting Actress for her performance in Chicago, released in 2002. Other major productions in the 2000s are Ocean's Twelve and Intolerable Cruelty. She took a break sometime in the early 2010s and returned in 2013 with roles in Rock of Ages and Side Effects.
Now 46, it cannot be denied that Catherine is still gorgeous. Her comeback roles recently are a strong proof of that. Though her hiatus had something to do with her admitting that she had bipolar disorder, checking herself in to a facility in 2011, and then again in 2013, the Oscar-winning actress managed to not only get through her mental health but also her physical and general well-being, making her an epitome of strength. Thanks to her healthy diet, she's able to stay fit and fabulous.
Interestingly, Catherine practices the popular Atkins Diet Plan. This means that she stays away from anything containing carbs and focuses on eating meat and cheese instead to supply her body the necessary nutrients. This dietary regimen was what helped her lose weight after giving birth first in 2000, then in 2003, according to the actress. Aside from only eating meat and cheese, the actress also watches her portion, practicing control in her every meal. It was also noted that the said diet helped Catherine lost eight pounds per week before.