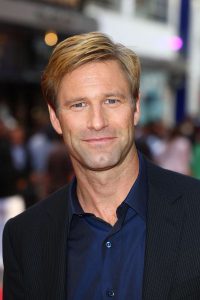 Hollywood actor Aaron Eckhart had his career beginnings in the early 1990s. He debuted as Dwayne in the 1992 film Double Jeopardy. He next appeared in the film Slaughter of the Innocents. Meanwhile, he had his first television appearance in an episode of Aliens in the Family. He later gained recognition for his performance in the film In the Company of Men. For his work here, he won the Independent Spirit Award for Best Debut Performance. He later had notable roles in the films Your Friends & Neighbors, Thursday, Molly, and Any Given Sunday.
In the 2000s, he had supporting roles in Erin Brockovich, Nurse Betty, and The Pledge. He then co-starred in the films Possession, The Core, Paycheck, The Missing, and Suspect Zero. In 2006, he starred as Nick Naylor in the movie Thank You for Smoking. This earned him a Golden Globe nomination for Best Actor. Subsequently, he co-starred in The Black Dahlia, and No Reservations, as well as played the lead in Meet Bill. In 2008, he portrayed Harvey Dent / Two-Face in The Dark Knight. In the 2010s, he starred in the movies Rabbit Hole, Battle: Los Angeles, Olympus Has Fallen, and London Has Fallen. He also played the lead in 2014's I, Frankenstein.
For his role in I, Frankenstein, the actor upped his workout regimen to substantially improve his physique. "I did six months of Kali stick fighting training—it's the Filipino art of using two-and-a-half foot rattan sticks to destroy an opponent," said the actor, who described his training as "hardcore". He continued: "I worked with this gentleman named Ron Belicky in Southern Cali who's an expert in that and other things—knife fighting and all that. I trained every single day for two or three hours a day and then I would go straight from Kali stick fight training to my trainer here." The actor also trained on the beach where he did sand sprints, strength training, and "all sorts of Parkour".