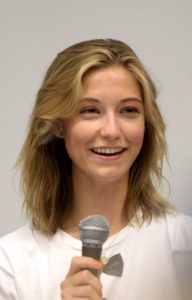 American actress Caitlin Gerard entered Hollywood only in the 2010s. Her first acting gig was in the film The Social Network. Subsequently, she had roles in the films The Awakening and Answers to Nothing. She also appeared in Magic Mike and Smiley. On television, she had main roles on the shows Jan and Vanessa & Jan. She became noticed for her main role on Zach Stone Is Gonna Be Famous. After the show's cancellation, she appeared in the film Pocket Listing. As of 2015, she stars as Aubry Taylor on the TV series American Crime.
The 28-year-old actress is starting to get significantly noticed for her work on the small screen. Standing at 5'7 the actress surely has a body like that of a model since she's slender. Amazingly, Caitlin practices healthy living despite being only in her 20s. She believes that a clean lifestyle must be practiced as early as possible. This way she can establish healthier habits. It is also important for her to eat right most of the time. She loves food and is tempted to eat something that's not healthy from time to time.
She still does so by eating in moderation. By indulging on her cravings, she gets to be happier and satisfied. She also avoids feeling deprived, which leads to binge eating. In the morning, she starts her day right by eating an egg or whole grain cereal. She then goes for fish or chicken for lunch with veggies on the side. For dinner, she prefers something lighter. This means either a tuna sandwich with fruits and vegetables or pasta with seafood and tomato-based sauce as this is healthier. For snacks, she munches on something healthy like yogurt, nuts and fruits. She loves sweets, so she allows herself to eat a brownie or a cookie once in a while.