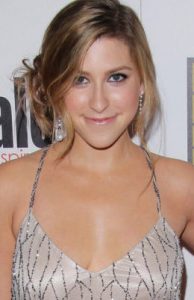 It was some time in the early 2000s that actress Eden Sher got her start in Hollywood. She first appeared with a small role in the 2001 film Stuck. Later, she made her television debut in an episode of The O.C. A few years later, she got the recurring role of Gretchen in the Showtime series Weeds. At the same time, she also appeared as Carrie Fenton, also a recurring character in the sitcom Sons & Daughters.
She next appeared in an episode of the TV shows The Middleman, Party Down, and Sonny with a Chance. Ultimately, she got her breakthrough role as Sue Heck in the ABC sitcom The Middle, which she starred in from 2009 to 2018. The said show lasted on television for several seasons, gaining her significant attention. Her role here also won her a Critics' Choice Television Award for Best Supporting Actress.
Despite her regular work here, she continued working on other film and TV projects. She had roles in the films Veronica Mars, Temps, and The Outcasts. She also ventured into voice acting, playing Star Butterfly in the animated series Star vs. the Forces of Evil from 2015 to 2019. Sher also made one-time roles in Sing It! and Superstore. Her latest film role was in 2018's Step Sisters. She also recently played PJ Fields in several episodes of The CW's Jane the Virgin.
Not only does Eden Sher stick to a healthy diet plan, she also works out as regularly as possible. One of her go-to workouts is Pilates. "I have daily plank-holding competitions with my friends and boyfriend. I credit my bangin' bod to my unhealthy obsession with winning. Also I do a shit-ton of Pilates – used mostly as training for Plank Competitions," said the actress. Sher also attends Krav Maga classes to work on keeping her body super fit and strong.