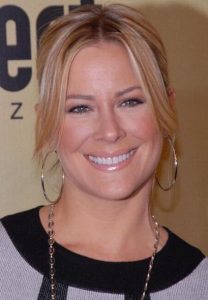 Hollywood actress Brittany Daniel had her career beginnings in the late 1980s. She first appeared in an episode of The New Leave It to Beaver. Later in 1992, she starred as Mila Rosnovsky in the teen drama Swans Crossing. From 1994 to 1997, she gained prominence for starring as Jessica "Jess" Wakefield in the comedy-drama series Sweet Valley High.
That same time, she made her cinematic debut in the 1995 film The Basketball Diaries. After Sweet Valley High ended, she played recurring role Eve Whitman in Dawson's Creek, as well as appeared in the film Sonic Impact. In the 2000s, she starred in the TV film Sonic Impact, guest-starred in That '70s Show, as well as starred as Sophia in the sitcom That '80s Show. Also in the 2000s, she landed roles in several movies.
She had performances in such films as Joe Dirt, Club Dread, White Chicks, Dirty, Rampage: The Hillside Strangler Murders, Little Man, and The Hamiltons. Daniel also appeared in 4 episodes of It's Always Sunny in Philadelphia. She returned to full-time television with her starring role as Kelly Pitts in The CW's The Game. Other film roles include Loveless in Los Angeles, Skyline, and Joe Dirt 2: Beautiful Loser. Her most recent work on television was as Blair in 3 episodes of the sitcom Blackish.
Brittany Daniel stays in shape by choosing her meals consciously. She has since avoided processed foods. Instead, she focuses on having clean, whole foods that are packed with nutrients. Overall, she eats foods that makes her feel good. "My meals are 80 percent vegetables and either 20 percent protein or 20 percent whole grain," said the actress. "I'll eat beets and rutabaga with porridge for breakfast. My friends think I'm crazy, but my body has never looked or felt better."