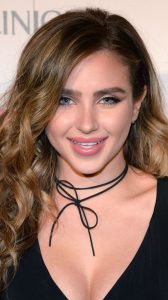 Hollywood star Ryan Newman got her start in 2006 when she debuted in the film Monster House. That same year, she also appeared in the movie Zoom. On television, she had her first appearance as the Young Miley Stewart on Hannah Montana. After this, she had a role in the movie Lower Learning. She then starred as Ginger Falcone on the Disney XD sitcom Zeke and Luther. She starred on the show from 2009-2012. She also had a one-time role as Kit on Good Luck Charlie.
After Zeke and Luther, she starred as Emily Hobbs on the sitcom See Dad Run. The show aired from 2012-2015. She later appeared as herself on Big Time Rush. In 2015, she starred as Claudia Shepard on the Syfy TV movie Sharknado 3: Oh Hell No!. Afterward, she had a recurring character as Allison on The Thundermans, playing the said role from 2015 to 2017. In 2016, she starred as Sarah Foster in the movie The Thinning. She also reprised her role as Claudia in the sequels Sharknado: The 4th Awakens and The Last Sharknado: It's About Time. Additionally, she starred on the Lifetime film Bad Sister and appeared on the reality series Paradise Run.
The 20-year-old actress doesn't follow any specific diet. As a matter of fact, she doesn't diet at all. She eats whatever she wants, she just makes sure that she does so in moderation. She also tries her best to focus on the consumption of clean, whole foods instead of processed ones. As an actress, it is crucial for her to stay strong at all times. And since eating healthy foods gives her strength, it's easier for her to choose nutritious meals over junk foods, which only make her feel lethargic. She also incorporates fruits and veggies into all her meals, helping her to maintain her slender figure and radiant skin.