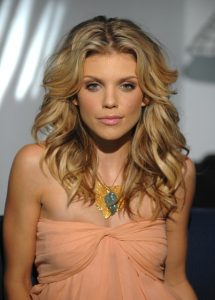 AnnaLynne McCord's career took an interesting turn on television when she portrayed Eden Lord on Nip/Tuck, as well as for her role as Loren Wakefield on the telenovela American Heiress. Furthering her success, she was cast for the role of Naomi Clark on the remake of the hit television series Beverly Hills, 90210, 90210. Though her role started out as a supporting character, she was ultimately recognized as the show's lead, thanks to her great acting and strong screen presence. After the show ended in 2013, she had a recurring part on Dallas and will appear, also as a recurring character on the second season of Secrets and Lies. Additionally, she has had roles in numerous B-movies.
AnnaLynne is defintely a vixen with her big hair, wide eyes, and awesome figure. She has instantly gained fans, thanks to her role on 90210, fans who saw how beautiful and talented she is. Her sex appeal is amazing and her fierceness is rare. She also happens to be very careful when it comes to her health as this reflects not only her physical, but also her mental state. In an interview, the actress revealed that she grew up in a household with high-calorie foods where it's all about butter, sugar, deep-fried meals.
But despite all these temptations, she managed to come out slender and fit. She attributes her body's slimming down to her mother who lost 45 pounds by simply practicing moderation and keeping her cravings in moderation. She was then inspired by her mother to "think thin" in the process, which she has ever since. For breakfast, she typically has egg sandwich or French toast, or both if she's really starving. For lunch, she opts for turkey and ham sandwich while she munches on red and green pepper strips with ranch dressing or cereal bars for snack. For dinner, she either has fish or chicken plus vegetable soup.