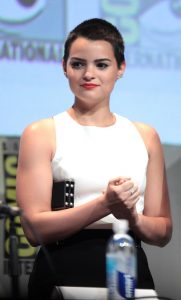 In 2014, Brianna Hildebrand started her acting career in the web series Annie Undocumented. The following year, she appeared in the independent film Prism. She also acted in the short film The Voice Inside, for which she was also the producer. She next appeared in the film First Girl I Loved. Hildebrand then rose to fame for her role as Negasonic Teenage Warhead in 2016's Deadpool, which also became her breakout role.
For this, she was nominated for the Choice Movie: Breakout Star at the Teen Choice Awards. After this, she starred in the comedy horror film Tragedy Girls, as well as starred as Verity in the second season of the horror series The Exorcist. She went on to reprise her role as Negasonic Teenage Warhead in Deadpool 2, earning her further success on the big screen. She went on to have performances in the films Playing with Fire and Runt. The actress also appeared in an episode of Love Daily. From 2019 to 2020, she starred as Elodie Davis in the teen drama series Trinkets.
Brianna Hildebrand trained extensively for her role in Deadpool. That meant upping her workout routine to improve not only her physicality but also her strength and agility. This was only a necessity since she did most of the stunts in her movie herself. Prior to filming, she underwent Muy Thai training. Apart from this, she also trained by boxing and sprinting, which her character did most of the time in the movie as well.
In an interview, she also shared about how she loves to work out, even when not prepping for a role. "I do also enjoy working out, which sounds annoying. I hate when people say that, but I just really enjoy finding different ways to work out," said the actress. "For a while, I was into Pilates and then yoga and cycling. It keeps my mind clear. And other than that I like food!"