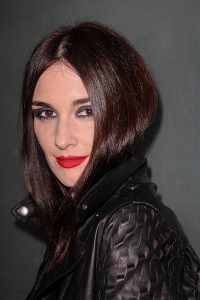 Spanish actress Paz Vega debuted on the Spanish screen. Her first role was in the Spanish movie Más allá del jardín in 1997. The rest of the '90s saw her star in a couple more Spanish movies. She continued her career in Spain in the early 2000s until her Hollywood breakthrough in the 2004 film Spanglish co-starring Adam Sandler. She next co-starred with Morgan Freeman in the drama film 10 Items or Less, as well as starred in the British movie Fade to Black. After this, she portrayed Santa Teresa de Jesús in the biopic Theresa: The Body of Christ.
She has since starred in The Spirit, The Six Wives of Henry Lefay, and Burning Palms. In the 2010s, she starred in several Europen movies while also continuing her work in Hollywood. She later played Maria Callas in the movie Grace of Monaco and starred in the feature Kill the Messenger. As of 2015, she started starring as Isabella Delgado on the comedy series Big Time in Hollywood, FL. Her latest film roles were in All Roads Lead to Rome and Acts of Vengeance. She also appeared as Renata in the Netflix series The OA.
The 42-year-old actress remains fit and slender thanks to her clean diet plan. She's never been fond of processed foods and has always stuck to healthy eating habits. In an interview, she revealed that her Mediterranean diet, in addition to exercising regularly, is how she's able to maintain an amazing body. "I cook croquetas, and I eat jamón. I keep my diet 100% Mediterranean and drink my Rioja," she said in an interview.
According to her, she doesn't put too much pressure on herself in terms of losing weight. She revealed she doesn't like to obsess over calories. She also prefers homemade meals, which are healthier of course. So, what does she like to cook? She said: "Everything, especially whatever my husband likes. Steak, rice, vegetables, everything. In my house, we always cook well and eat well."