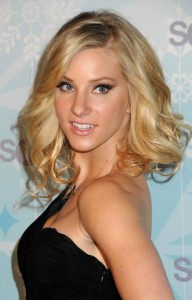 American dancer and actress Heather Morris is so multi-talented her knack for throwing one-liners in Glee got her significantly noticed. Starting her career as a dancer, she got lucky working with the likes of Beyonce as one of her back-up dancers. This certainly brought her to places and introduced her to the right people, which gave her the opportunity to work as a choreographer in Glee. Because she's pretty and has an amazing body, she was cast as one of the cheerleaders on the show, but her being good in what she does eventually caught the attention of those people who call the shots and gave her a regular role. Of course, this exposed her to international audience and made her a star along with the rest of the cast. Aside from Glee, Heather also acted in the movie Spring Breakers.
Being a dancer, Heather naturally has a great body. Basically, that's her main secret for her amazing physique since she's been dancing since she was a little girl. Standing at 5'8, she's more noticeable with her lean and fit body. Even though she's already dancing, Heather still works out regularly. Aside from this, she also takes care of her body through healthy eating. Interestingly, Heather doesn't really believe in dieting.
She said: "Dieting is just not good for your body or mind. I don't think you should ever tell yourself you can't have something you want. You can't have cookies at every meal, but you can have a cookie." She knows for a fact that depriving herself of the food she loves would only make her crave for it more. She believes that she just has to listen to her body, saying: "When I eat fries and burgers for a while, I crave vegetables and fruits. I cut out the carbs and the processed foods until I feel good again." Mostly, she eats a lot of protein, specifically chicken and fish, and vegetables, fruits, and almond milk.