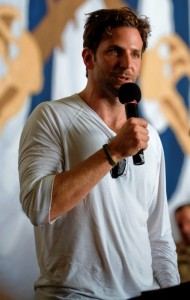 American actor Bradley Cooper first got his break on the television with the show Alias, followed by Jack & Bobby in the early to mid 2000s. Around the same time, he also began his cinematic journey but mostly with small to supporting roles, most notable in Wedding Crashers and Yes Man. His biggest success in that period was in the comedy film The Hangover, which has since reprised in the sequels The Hangover Part II and The Hangover Part III. His popularity brought by this comic trilogy brought him to further attention and led him to star in other films, prominently in Limitless, Silver Linings Playbook, and American Hustle. He's also a highly acclaimed performer, getting nominations for his performances in Silver Linings Playbook, American Hustle, and American Sniper.
41-year-old actor doesn't look like his age and certainly looks years younger, something he attributes to his healthy lifestyle. Given his challenging roles and the physical preparations he had done, it is not surprising that the actor takes working out seriously. Aside from dieting to make sure his body looks fit and he feels good as well, he engages in lots of physical activities. For one, he doesn't adapt only one routine but practices diverse workouts. For instance, he applies the 3-2-1 routine, which basically means three reps of ten-minute cardio workouts, two reps of ten-minute strength training, and ten-minute core workouts without any rep.
Bradley is also fond of going for the full body workouts, which he does with bench press, squats, jump rope running, alternate high knee jump rope, push-ups, military press, medicine ball, and planks, among others.Cardio workouts are effective for burning those extra calories while strength training increase lean muscles. His lean and fit body, accompanied by his toned abs, are living proofs that his workouts have been effective and excellent for him and his career.