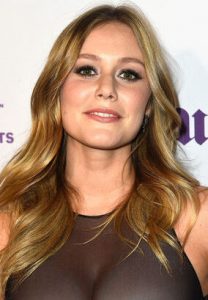 Hollywood star Julianna Guill debuted in The CW's One Tree Hill in 2004. She went on to make guest roles in various television shows, including CSI: Miami, CSI: Crime Scene Investigation, How I Met Your Mother, and 90210. At the same time, she starred in the television movie My Super Psycho Sweet 16. In 2009, she had her first film role in 2 Dudes and a Dream. That same year, she appeared in the movies Friday the 13th, Fired Up! and Road Trip: Beer Pong.
In the 2010s, the actress acted in the films Costa Rican Summer, Altitude, Crazy, Stupid, Love, Mine Games, and The Apparition. She also starred as Christie Dewitt in the short-lived series Glory Daze. She went on to play recurring character Bekah in Underemployed. In 2013, she starred in the short-lived program Bad Samaritans, after which she played Becca Riley in several episodes of Girlfriends' Guide to Divorce.
During this period, Guill starred in the feature films Alex of Venice, Bad Night, Christmas Eve, and Lawless Range. She also played a small role in the superhero film Captain America: Civil War. In 2017, she starred as Dr. Butterfly McMillan in the television movie Psych: The Movie. She later landed the recurring role of Jessie Nevin in the Fox medical drama series The Resident, which she has been playing since 2018.
Julianna Guill stays in top shape by sticking to a healthy diet plan. For starters, she always starts her day right with a nutritious breakfast. "Every morning, I like to have a small bowl of oatmeal with a spoonful on nonfat plain greek yogurt," said the actress.
"I sprinkle my new favorite snack, Crunchies (freeze dried fruit), and a few almonds on top. Sometimes, I even add a spoonful of almond butter. It tastes great, its healthy and it keeps me going for hours." For lunch and dinner, she usually has some fish or chicken with salad, plus plenty of fruits for dessert.