Performing Career to High School Musical Fame
Vanessa Anne Hudgens was born on December 14, 1988 in Salinas, California to office worker Gina and firefighter Gregory Hudgens. Her love of acting started at an early age and by the time she was eight, she began performing in musical theatre as a singer. She also appeared in local productions of such plays as Carousel, The Wizard of Oz, The King and I, The Music Man and Cinderella, to name a few.
Two years after performing on stage plays and musicals, she began auditioning for commercials and television shows. After winning a role in a commercial, her family moved to Los Angeles. At the age of 15, she started her acting career. She also briefly attended Orange County High School of the Arts. She was later homeschooled by tutors.
In 2002, she made her television debut with the sitcom Still Standing. She later appeared in an episode of the television series Robbery Homicide Division. In 2003, she made her film debut as Noel in Catherine Hardwicke's film Thirteen, alongside Nikki Reed, Evan Rachel Wood and Holly Hunter. The film debuted at the 2003 Sundance Film Festival and received critical acclaim.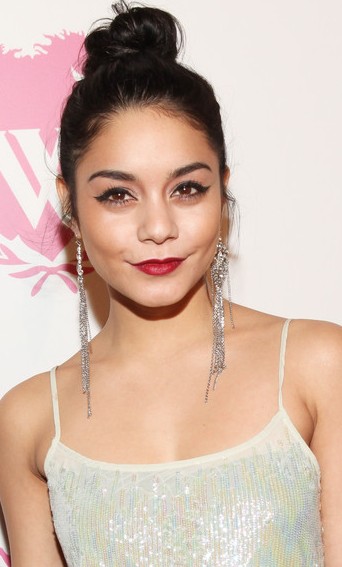 Also in 2003, she appeared as Lindsay in an episode of The Brothers García and landed the role of Tintin in the film Thunderbirds. The movie garnered negative reviews and failed to bring back its budget, making it a box office failure. She then returned to television with a guest role in the sitcom Quintuplets.
In 2005, she was cast as Gabriella Montez in the Disney film High School Musical. It was released on January 20, 2006 and became both commercially and critically successful. Her role in this movie catapulted her to fame, along with co-stars Zac Efron and Ashley Tisdale.
Hudgens also found fame with the songs she recorded for the film, particularly the song "Breaking Free", a duet with Zac Efron, which became her only Top 10 hit on the Billboard Hot 100 to date. Following the success of the film, Hudgens began working on her debut album, V, which was released on September 26, 2006.
The following year, she reprised her role in High School Musical 2. The premiere was watched by a total of over 17.2 million viewers, making it the highest-rated Disney Channel Movie of all time. She then released her second album, Identified, on July 1, 2008, selling 22,000 copies in its first week.
She went on to star in the 2008 sequel High School Musical 3: Senior Year, the first High School Musical film to have its theatrical release on October 24, 2008. The movie also proved to be a box office success, earning $252,909,177 worldwide, exceeding Disney's expectations.
After completing the High School Musical film series, Hudgens took a break from her music career to focus on acting. In 2009, she landed a part in the musical comedy Bandslam. Although the movie was a commercial failure, she did earn good reviews for her performance.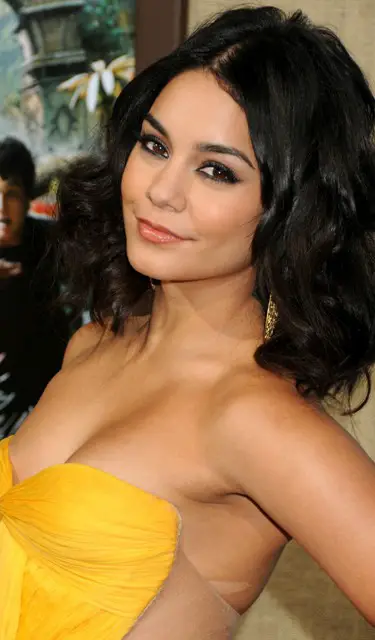 Subsequent Films and Plastic Surgery
Her next project came in 2011 with Beastly, a film adaptation of Alex Flinn's novel of the same name, where she played the role of Lindy Taylor. The film received poor reviews but was a modest box office success. Later that year, she starred as Blondie in Zack Snyder's Sucker Punch. The film generally garnered negative feedback and earned a worldwide earnings of $89,792,502, barely making back its $82 million production budget.
In 2012, she starred alongside Dwayne Johnson, Michael Caine and Josh Hutcherson in Journey 2: The Mysterious Island. The movie received mixed reception but was a box office success, earning $355,692,760 worldwide. That same year, she co-starred with Selena Gomez, Ashley Benson, Rachel Korine and James Franco in the film Spring Breakers. The feature was well-received and went on to generate impressive ticket sales at the box office.
Hudgens also attracted plastic surgery rumors as she was growing up in the public eye. First, it was said the former Disney actress had a nose job. Some people have observed that unlike before, Hudgen's nose now is smaller and a bit more refined. These reports continued to escalate as her red carpet appearances proved to be notably mature.
Aside from a nose job, the High School Musical actress also allegedly underwent a breast augmentation, which began to circulate after nude photos of her leaked online. Though the scandal was unfortunate on the actress' part, it didn't stop people from thinking that the photos serve as a strong evidence of her alleged plastic surgery. The actress has since kept silent on the issue.