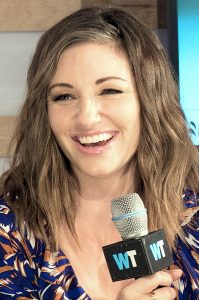 It was in 1999 that actress Bianca Kajlich got her start in the show business. Her first acting role on the big screen was in the teen comedy film 10 Things I Hate About You. The following decade, she appeared in the teen movie Bring It On and the slasher film Halloween: Resurrection. On television, she starred as Lisa Grier on Season 1 of Boston Public.
Later, Kajlich gained recognition for her portrayal of Natasha Kelly on the teen drama Dawson's Creek. Following this, she landed the part of Beth Cox on the short-lived sitcom Rock Me Baby. Also, she had performances on the made-for-television films Confession of a Dog, Vanished, and More, Patience. In 2006, she played recurring character Quinn Keeler on the TV series Vanished.
Her starring role as Jennifer Rhodes on the CBS series Rules of Engagement brought her wider fame. She went on to star as Leslie Burton on the NBC sitcom Undateable, which aired from 2014 to 2016. Her other film credits include 30 Minutes or Less and Dark Was the Night. This year, she appeared as Christina Henry in 8 episodes of Bosch.
Bianca Kajlich stays in shape by eating well and living an active lifestyle. She also swears by meditation, which she considers "the cheapest form of therapy." Her practice of meditation led her to try Ayurveda, which she has since loved. In addition to daily meditation, the actress also does yoga.
Bianca Kajlich starts her day right by following a routine that includes 20 minutes of yoga, five minutes of breathing exercises, and then 25 minutes of meditation where she concentrates on her breathing. Kajlich is also fond of running. "It's not about getting to the end of the street but about being in the moment and appreciating the miraculous effort my body is making to be healthy," said the actress.