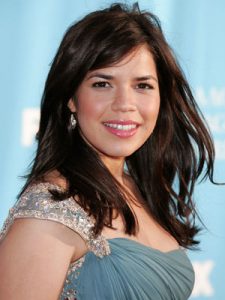 Hollywood actress America Ferrera had her career beginnings in the early 2000s. Her first television work was as host on the show Independent Lens. She made her first movie role in Real Women Have Curves. She first gained notice for her role as Carmen Lowell in the movie The Sisterhood of the Traveling Pants. She later rose to fame thanks to her role as Betty Suarez in the television series Ugly Betty.
Her work on the show was substantially praised, winning her an Emmy for Best Actress, among other awards. Simultaneously, she reprised her role in The Sisterhood of the Traveling Pants 2. She next played recurring character Natalie Flores in The Good Wife. As of 2015, she stars as Amy Dubanowski in the show Superstore. In addition, she's also had roles in the movies It's a Disaster, End of Watch, César Chávez and Special Correspondents.
The 33-year-old actress used to struggle with her weight but she's obviously looking and feeling better now. This is because she has since practiced a healthy lifestyle. This includes working out and eating healthily. Last year, the actress joined a triathlon and she really worked hard to prepare her physical and mental self. She said that the toughest part of her training was eating healthy foods all the time without much space for her cravings and indulgences.
Talking about it, she said: "I trained for five months… It was so hard! Swimming is so hard, and also, when you're done swimming, you're starving. I've never been so hungry than when I'm done swimming." She went on to say: "Feeding yourself is the hardest part of training, I find, because I'm hungry every hour-and-a-half, two hours. I have to eat something and it's hard to always have something healthy, and it's not just like (any) food, you need food with the right stuff, protein, iron, and all that kind of stuff."