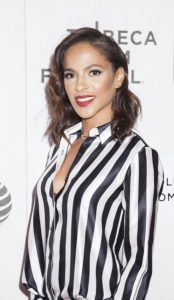 It was in 1998 that actress Megalyn Echikunwoke got her start. She had her first television role in the miniseries Creature. That same year, she appeared in an episode of The Steve Harvey Show. She next had her first movie role Funny Valentines, released in 1999. Her first starring role was as Cherish Pardee on the TV series Spyder Games. Shortly after, she gained notice for her portrayal of Nicole Palmer on the Fox series 24.
She went on to make guest performances in Sheena, ER, For the People, What I Like About You, and Buffy the Vampire Slayer. Later, she starred as Danika Ward on the sitcom Like Family. Her next role was as Angie Barnett on That '70s Show. She continued her work on television playing Isabelle Tyler on The 4400. She also became known for her role as Tara Price on CSI: Miami. She also starred in the films Fix and Who Do You Love?
In the 2010s, her work continued to flourish with recurring roles on the small screen. This includes playing Holly Strickler on 90210 and April on House of Lies. In 2012, she starred as Riley Parker on Made in Jersey and then as Megan Shane on Mind Games. Her latest starring role was as Simone Baptiste on the short-lived horror series Damien. She's also recently had performances in the feature films The Meddler, CHiPs, Step Sisters, An Actor Prepares, Night School, and Late Night.
The film and TV star maintains a healthy figure thanks to her active lifestyle. She exercises, she plays sports, and she dances — a lot. "Dance is a foundation of my fitness routine. Anywhere I am, I try to make sure I'm as close to a dance studio as possible, and I think I'll probably practice or study ballet until I'm 80 years old. At least, I hope so," said the actress.