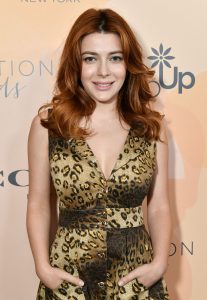 Hollywood actress Elena Satine debuted in an episode of the TV series Gemini Division in 2008. She next made one-time roles in Cold Case and Melrose Place. The following year, she made her film debut in Don't Look Up. That same time, she also appeared in the movie The Harsh Life of Veronica Lambert, as well as performed in the short film titled Adventures in Online Dating. Her career became more active in the 2010s.
She first landed notable guest appearances in Agatha Christie's Poirot, Smallville, and NCIS. Finally, she secured her first starring role on TV — as Judi Silver in Magic City. The series aired on Starz, however, it was canceled after two seasons. She next played Lorelei in an episode of Agents of S.H.I.E.L.D. and appeared as Margot in 3 episodes of Matador.
Later, she became further known for starring as Louise Ellis in Revenge, joining the main cast for its fourth season. Following this, she portrayed Judith Campbell in an episode of Timeless. She also guest-starred in Twin Peaks and 24: Legacy. In 2017, she played recurring role Sonya Simonson / Dreamer in the Fox series The Gifted. Her latest role on TV was as Maggie Donovan in the CBS show Strange Angel.
To stay in shape, the Georgian-American actress tries to be mindful of her food choices. Lately, she's more inclined to eat clean, whole foods rather than make her body suffer by loading it with processed foods with zero nutrition. While she still indulges in her cravings and is not really a fan of starving herself to lose weight, she manages to incorporate healthy eating into her lifestyle.
Hence, her diet plan mainly consists of lean meat, whole grains, and healthy fats. Of course, vegetables and fruits are some of her daily staples as well. As she's gotten used to clean eating, she's felt a lot stronger and healthier from inside and out.