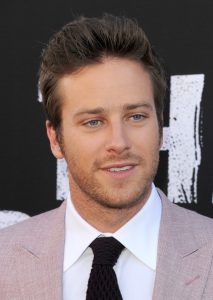 Armie Hammer's Hollywood career took off after impressing critics and moviegoers alike with his performance as the Winklevoss twins in The Social Network. Prior to this success, he's had roles in the movies Blackout and Billy: The Early Years. After The Social Network, he became a more popular actor, landing starring roles in well-known Hollywood films, including J. Edgar, Mirror Mirror, and portraying the titular character in The Lone Ranger. His most recent performances on the big screen were in The Man from U.N.C.L.E. and The Birth of a Nation. He has also played notable roles on television, playing recurring characters on Reaper and Gossip Girl.
The American actor is apparently in his best self as he's in his prime, looking handsome, fit, and just overall fantastic. Judging by his stature and built, it can be well assumed that not only does he workout and is physically active, he's also very careful when it comes to his eating habits. For his role in The Man from U.N.C.L.E., he underwent extensive training to prepare his body. To compliment this effort, he was also cautious of his dietary regimen. He focused on eating lean protein as well as healthy fats to make sure he only consumes nutritious food.
Basically, he starts his day with a healthy breakfast, which typically consists of eggs and bread, or cereal. For his lunch, he makes sure he gets sufficient proteins by eating chicken, or fish paired with fruits and vegetables. For dinner, he continues to load his body with proteins, but also sometimes choose to have pasta or sandwich instead. The actor also drinks fruits and veggie shakes to avoid getting hungry more often. He also eats snacks in between meals, usually having nuts, yogurt, fruits, and some bread. As Armie is not that uptight about his diet and also knows how to appreciate food, he allows himself to eat pizza, burgers, and fries at least once in a week, though he makes sure he only eats moderately.