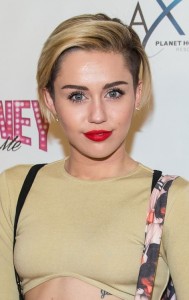 American actress-singer Miley Cyrus has long since been an international star, courtesy of her portrayal of the titular character in the hit Disney show Hannah Montana. Her being in the show business at a young age was somehow excepted since her father is singer Billy Ray Cyrus. Early appearances were on the television series Doc and the film Big Fish. A couple of years after, she got her big break in Hannah Montana, a role she reprised in Hannah Montana: The Movie. In the 2010s, she also became known for her roles in the feature films The Last Song, LOL, and So Undercover. Of course, Miley is also widely known for her work in music, releasing her debut album in 2007. This has since been followed by Breakout and Can't Be Tamed, but it was her fourth album Bangerz that highly generated publicity due to her radical change in her image. She recently released her fifth album Miley Cyrus & Her Dead Petz independently.
The 23-year-old celebrity is more than famous than ever. Standing at around 5'4 1/2, Miley is notably fit and slender. Considering she's far from coy when it comes to showcasing her body in her performances and magazine appearances, the young star has nothing to hide and is proud to bare it all. Surprisingly, despite her late partying and wild ways, the celebrity tries to maintain her health and figure through exercises and balanced diet.
For one, Miley practices a gluten and a lactose-free diet. With the tours and concerts she's engaged into, she must make sure she stays strong and reinvigorated. That is why most of the time she only eats fresh eggs, fresh meat and poultry, fruits and veggies, raw beans and seeds. She sometimes indulges in such foods as bread, pasta, cakes, pies, and crackers, among others, as long as they're gluten-free. By practicing a healthy and a balanced diet, Miley's slender figure stays the same and her general well-being is also guaranteed.