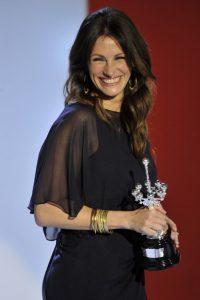 Julia Roberts is an A-list actress in Hollywood whose career took an interesting turn when she starred in the romantic comedy Pretty Woman, which became an instant international success, catapulting her to stardom. Before this, she was already acclaimed for her performance in Steel Magnolias, for which she was nominated for an Oscar for Best Supporting Actress. After her breakthrough in Pretty Woman, she headlined the films Sleeping with the Enemy, The Pelican Brief, Conspiracy Theory, Notting Hill, and Runaway Bride. In the 2000s, she starred in Ocean's Eleven, Ocean's Twelve, and was acclaimed for her performance in Erin Brockovich, for which she won an Oscar for Best Actress. In the 2010s, she starred in Eat Pray Love and Mirror Mirror.
Already nearing her 50s, it is apparent that the actress is still in her prime when it comes to her appeal. Despite aging, she's still attractive as ever. Being a mother of three, Julia makes sure she takes care of herself through healthy eating and working out. For the latter, she spends a 90-minute workout for five days in a week. Her fitness routine involves aerobic step workout with strength training. Also, her strength training varies between total body, Pilates, arms, core, and yoga. For more than 10 years, she employs Kathy Kaehler as her personal trainer, who's a familiar name among celebrities.
For 20-40 minutes, she allows Julia to spend her routine on aerobics, followed by a 40-minute total body work. She also does push-ups, planking, body squats, lunges, and ab crunches in between. She typically performs three sets of each of the 15 exercises, in addition to doing aerobics variations, which include Alternating tap-to-sides, Alternating knees, Step straddles, V steps, Step on the corners, Corners with a knee-up, and Over the tops. No wonder the award-winning actress is still vigorously active, healthy, and beautiful.