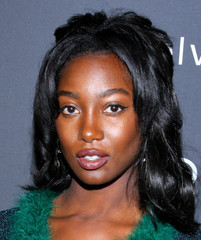 Canadian star Mouna Traoré had her career beginnings in the late 2000s. Her first role came in 2009, playing Serena Balfour in several episodes of the TV series Majority Rules! She later had guest roles in Cra$h & Burn, 'Da Kink in My Hair, Being Erica, and Connor Undercover. Her first recurring role on television was as Crystal Markes in Rookie Blue.
In 2013, she played the role of Erika in the remake of Carrie. She next appeared in an episode of Beauty and the Beast. The actress gained recognition for her role as Rebecca James in the television series Murdoch Mysteries. At the same time, she appeared as Ali in 4 episodes of Hemlock Grove and Midori in Shadowhunters: The Mortal Instruments.
After this, she starred in the short film called The Drop In, as well as in the feature film Brown Girl Begins in 2017. Traoré went on to guest-star in Suits and Ransom before she landed the role of Iris Loramer in Condor and Vanessa Hastings in In Contempt. More recently, she played Ruby Goodchild in the Starz series American Gods and Jill in Netflix's The Umbrella Academy.
Mouna Traoré takes care of herself by mostly eating healthy foods. As for her diet plan, she doesn't follow any. She's not into fad diets nor does she have any dieting tricks. For her, it's simply eating well with nutritious meals. That's why she mostly follows a plant-based diet, especially organic ones.
When asked if what her diet secrets are in an interview, she said: "No secret! Eat the foods that grow and you will grow! If it's processed or significantly altered from its natural state, I try not to eat it. But I do love my Burrata cheese." She also exercises by doing yoga, Pilates, and cardio, as well as riding her bike when doing errands.