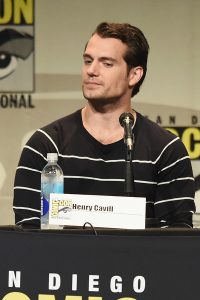 Henry Cavill is an actor from the UK who's career now in Hollywood is starting to flourish. His career beginnings can be traced back in the early 2000s with his debut in The Count of Monte Cristo. Subsequent roles on the big screen were in Hellraiser: Hellworld, Tristan & Isolde, Red Riding Hood, and playing more significant roles in Immortals and The Cold Light of Day. His big break came when he was chosen to play for the role of Kal-El / Clark Kent in Man of Steel. His portrayal of the character instantly gained him international stardom. He reprised his role in Batman v Superman: Dawn of Justice. He also played one of the leads in The Man from U.N.C.L.E.. He will play Superman once again in the 2017 upcoming movie Justice League. Among television viewers, he's best known for his role on The Tudors.
Naturally, Henry is cautious as to how he maintains his health. Though his routines depend on the roles he plays in movies. His most important role he had played so far was the role of Clark Kent or Superman. So, imagine the pressure the actor may have felt in order to ensure that he looks like the part. Fortunately, he was able to pull off the portrayal of his character and he has since been recognized for it. Not only was he physically amazing in the Man of Steel but his acting was just superb. However, what he physically achieved for the said film was no easy feat.
Aside from his intense training to bulk himself up, he also practiced a stricter diet plan. To supply his body his much needed stamina, he would consume 5000 calories. In the morning, he would have protein shake to begin his day. This protein shake must be a blend of banana, gram berries, almond milk, and protein powder. For lunch, he would prefer eating veggie soup, turkey with salad, while his dinner would consist of chicken breastwith honey chili sauce, snap peas, and quinoa. Aside from his three regular meals, he would have three small meals, which usually comprised of green apple, almond butter, and hummus with carrots, as well as other snacks with high calories like yogurt, coconut milk, and heavy cream.