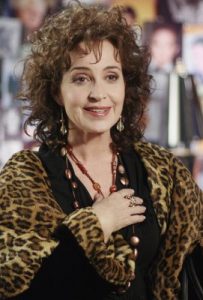 American actress Annie Potts started her career in the 1970s, debuting in the TV film Black Market Baby in 1977. The following year, she had her first movie role in Corvette Summer, quickly followed by King of the Gypsies. In the 1980s, she came to prominence for her starring performances in the blockbuster films Ghostbusters and Pretty in Pink. She played Janine Melnitz in the former. She reprised her role as Janine in the sequel Ghostbusters II. During this period, she also starred as Edith Bedelmeyer on the TV series Goodtime Girls.
From 1986 to 1993, she became largely known for her role as Mary Jo Shively on the CBS sitcom Designing Women. After this ended, she starred as Dana Palladino on another sitcom Love & War. She next starred on the short-lived shows Dangerous Minds and Over the Top. From 1998 to 2002, Potts starred as Mary Elizabeth 'M.E.' Sims on the Lifetime drama Any Day Now.
She also voiced Bo Peep in the films Toy Story and Toy Story 2. She continued her prolific TV career in the 2000s with recurring roles such as playing Lieutenant Lucy Preston on Joan of Arcadia. In the 2010s, she played Gigi Stopper on GCB, Sharon Foster on The Foster, and Helen on Chicago Med. As of 2017, she plays "Meemaw" or Constance "Connie" Tucker on the CBS comedy series Young Sheldon.
Now in her 60s, the actress remains in her best shape thanks to her clean diet plan. During her younger years, she said in an interview that she follows the Zone Diet. This means she sticks to eating 40% carbs, 30% protein, and 30% fat. Carbs should also have a low glycemic index so she's satiated for longer. Potts must have kept this diet until now because she's managed to keep her healthy weight and high energy levels all these years.