Early Career, Recording Breakthrough and Plastic Surgery Rumors
Robyn Rihanna Fenty, known by her stage name as Rihanna, was born on February 20, 1988 in Saint Michael, Barbados. In late 2003, her performing career started when she met record producer Evan Rogers through mutual friends. She then began to record demo tapes under Rogers' tutelage. Her tape was sent to numerous record labels.
She was later signed by Def Jam Recordings after auditioning for Jay-Z, who was the president of the label at the time. Her debut studio album, Music of the Sun, was released in 2005 and charted in the Top 10 of the Billboard 200 chart. This was followed by A Girl Like Me, released the following year, which also peaked on Billboard 200's Top 10.
It was, however, her third album Good Girl Gone Bad (2007) that made her an international pop star. Its lead single "Umbrella" was a major breakthrough in her singing career, bringing her worldwide fame. The album's 2008 Reloaded version even catapulted her to further prominence with the songs "Don't Stop the Music", "Take a Bow", and "Disturbia".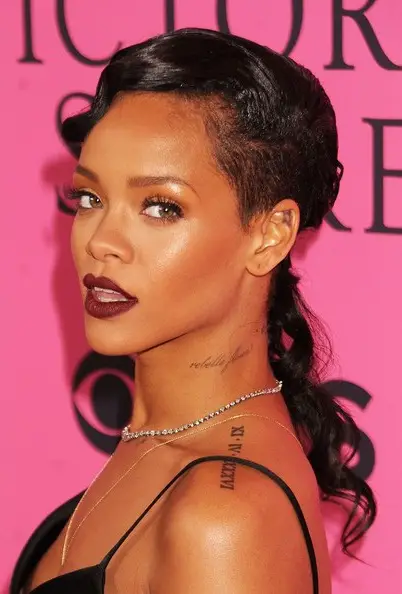 And since all huge entertainment successes accompany headline-worthy controversies, Rihanna has her own issues as well, beginning with her highly publicized fight with then-boyfriend Chris Brown, which resulted in the cancellation of her scheduled performance at the 51st Annual Grammy Awards in 2009. A leaked picture showing that the singer suffered from apparent injuries from her altercation with Brown created media frenzy as well.
Brown was sentenced to five years probation. It was then reported that Rihanna and Brown reconciled in 2012 with the former confirming the reports in an interview with Rolling Stone in January 2013. Brown, however, stated that they have broken up again in May 2013.
Rihanna's love life is just a part of her personal life that sparked interest among people. Since gaining mainstream stardom, the singer has also been speculated of going under the knife to improve her appearance. Known for showcasing her body in her performances, she was suspected of having a breast augmentation to allegedly establish a sexier image.
Her original cup size was said to be smaller than the present. And though her young age could have contributed to her body's natural development, her breasts' sudden increase suggests otherwise. Now, the singer has a more prominent cleavage, which looks fuller and rounder. According to some claims, her enhanced breasts even have implant lines, which they think is an indication that they're fake.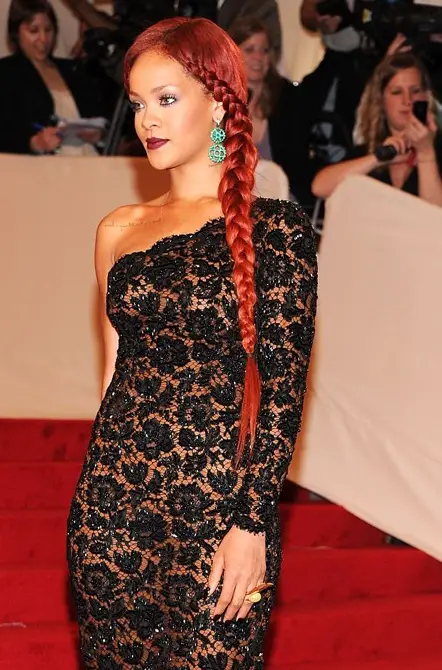 More on Rihanna's Plastic Surgery and Continued Entertainment Success
Rihanna has also sparked rumors of a nose job. Many believe that the singer has gone to the plastic surgeon's office, not only to improve the size of her breasts, but also to enhance her nose. Previous and present photographs of the star circulated online, attempting to justify that the celebrity really has gone under the knife for a rhinoplasty.
Rihanna's original nose was reportedly bigger with a wider tip and bulkier nostrils. However, after the alleged surgery, her tip has become narrower and the mid portion of her nose has gotten more linear. Though her nostrils have become less bulky, her nose still looks ethnically appropriate, making the transformation subtle and the result still natural.
Instead of being put down by such issues, Rihanna moved on with creating music that has since gained her various awards and nominations, including seven Grammy nominations for Good Girl Gone Bad, winning the Best Rap/Sung Collaboration for "Umbrella". She has since sold more than 50 million albums and 190 million singles worldwide. This made her one of the best-selling artists of all time.
Subsequent albums include Rated R (2009), Loud (2010), Talk That Talk (2011) and Unapologetic (2012). Also in 2012, she made her feature film debut as Gunner's Mate Second Class (GM2) Cora Raikes in Battleship. The movie received mixed reviews from critics and was a box office success, earning more than $303 million on a $209 million budget. Also in 2012, she was ranked the fourth powerful celebrity of the year by Forbes.