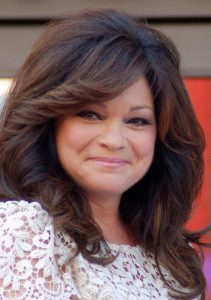 In the 1970s, film and TV actress Valerie Bertinelli started her Hollywood career. After her debut in 1974, she instantly landed her first starring role on television — as Barbara Cooper Royer in the sitcom One Day at a Time. Her performance was praised, for which she was awarded the Golden Globe for Best Supporting Actress in 1981 and 1982.
After the series ended in 1984, she starred in some TV films, including Silent Witness, and Ordinary Heroes. She also starred in the miniseries I'll Take Manhattan. In 1990, she played the title role in the short-lived show Sydney. She later starred as Holly Aldridge in the NBC sitcom Café Americain. In the 2000s, the actress became known for her role as Gloria in the television series Touched by an Angel.
Afterward, she made a cameo appearance in the film Saved! She went on to star in the television movie True Confessions of a Hollywood Starlet. In the 2010s, Bertinelli starred as Melanie Moretti in the TV Land sitcom Hot in Cleveland. At the same time, she guest-starred in the show Signed, Sealed, Delivered. After Hot in Cleveland ended in 2015, she began hosting her own show, Valerie's Home Cooking. She also appears as host and judge in the reality baking program Kids Baking Championship.
Apart from sticking to a healthy diet plan, Valerie Bertinelli exercises to stay in great shape and maintain strength and overall health. Years ago, the actress was a spokesperson for the Jenny Craig weight loss program. This helped her develop healthy habits that involved clean eating and an active lifestyle, helping her lost 40 pounds.
In her blog, she advised her readers "to commit to just 30 minutes of exercise a day…. Maybe you walk the dog in the morning, do some sit-ups or push-ups in the afternoon and take a family walk after dinner. The benefits are immediate and long-lasting."