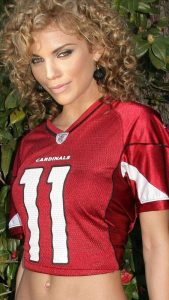 American actress AnnaLynne McCord started her Hollywood career in the early 2000s. This included small roles in a few films, as well as in music videos. By 2007, she had her first main role on the TV series American Heiress. During the same period, she had a recurring part on Nip/Tuck. Her biggest break so far was as Naomi Clark on 90210. She was a regular on the show all throughout five seasons. While on the show, she performed in the films The Haunting of Molly Hartley, Fired Up, Excision and Scorned. After 90210, she had notable roles on the TV shows Dallas and Secrets and Lies. Her latest film is 2016's Trash Fire.
Playing the antagonist on 90210, AnnaLyne immediately garnered mainstream attention. Looking at her, it is apparent how the actress is physically attractive. She is also made remarkable thanks to her slender and toned figure. The 29-year-old star stays in shape by not only eating healthy, but also working out. Interestingly, she prefers exercising by doing outdoor activities. You could often see her having fun at the beach with her friends.
In an interview with Shape magazine, she said: "With my unpredictable work hours, I rarely have time to exercise and have fun, so my idea of a good workout is to mix them both." She added: "I love being outdoors, playing beach tennis, going for runs in the sand, or doing a three-hour hike with my best girlfriend." She also said that when she first moved to Hollywood, she really couldn't afford to take gym classes. But that doesn't mean she couldn't stay fit as she knows how to improvise, like watching workout routines on DVD. She discovered belly dancing routines she liked and thought these moves really helped her a lot. "When you're shaking your booty, you can't help but feel beautiful and sexy," the actress stated.