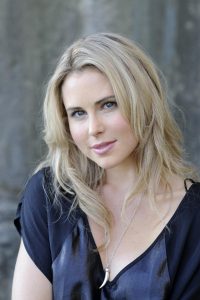 Anna Hutchison is an actress from New Zealand who's since pursued a career in Hollywood. She first starred as Delphi Greenlaw in the New Zealand series Shortland Street, which she played from 2002 to 2004. This also marked her screen debut. Afterward, she appeared in the Disney Channel Original Movie Wendy Wu: Homecoming Warrior. She then starred on the New Zealand show Ride with the Devil in 2007.
The following year, she gained recognition for starring as Lily Chilman / Yellow Cheetah Ranger in Power Rangers Jungle Fury. She went on to star as Allison Dine in the Australian show Underbelly: A Tale of Two Cities. She simultaneously starred as Amy Smart in the TV series Go Girls. Next, she starred in the Aussie show Wild Boys. That same time, she had a role in the TV film Panic at Rock Island.
In 2012, she made her film debut in the Hollywood movie The Cabin in the Woods. This was followed by performances in the films Blinder, Wrecker, and Sugar Mountain. She also had a notable role as Laeta in Spartacus: War of the Damned. From 2013 to 2014, she played recurring character Sasha in the American series Anger Management. More recently, she had performances in the movies Vengeance: A Love Story and Encounter.
To stay in shape, the New Zealand actress eats right apart from exercise. She's since made it a general rule to stop with sugary drinks and other sugary treats. She's also staying away from oily foods and those high with sodium. Instead, she keeps her meals clean and balanced. She usually eats lean proteins, vegetables, whole grains, and healthy fats. She loves an omelet in the morning or a bowl of oatmeal with some strawberries. For lunch and dinner, she likes to eat fish with salad or some grilled chicken and brown rice or quinoa. She indulges in some of her cravings from time to time, like some ice cream or a brownie.