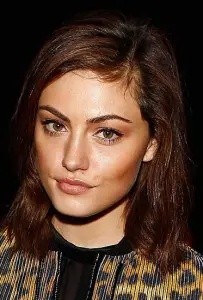 Aussie actress Phoebe Tonkin is now Hollywood's favorite television star. First acting on Australian television, she first became known for her main role on the TV show H2O: Just Add Water, which ran from 2006 to 2010. Simultaneously, she starred in another Australian show Packed to the Rafters, then had a recurring character in the long-running soap Home and Away in 2010. The following year, she made her Hollywood debut as part of the main cast of the American teen series The Secret Circle. It was a good start for Phoebe, but the show didn't last long. She next appeared as a recurring character in The Vampire Diaries, which she went on to reprise in the spin-off show The Originals, this time as a main character. As a movie star, she made her debut in the Australian film Tomorrow, When the War Began released in 2010. Her first American film will be in the upcoming thriller Take Down.
As mentioned, the 26-year-old actress is now a popular young star especially among teenage viewers, thanks to her role in The Originals. Standing at 5'10, Phoebe is hard not to notice with her tall, slender frame, which is why she also works as a model given her modelesque figure. To maintain her great figure, the young celebrity eats healthy. In the morning, she typically has almond milk latte, a fruit salad of berries and apples for breakfast, which guarantees she receives sufficient nutrients and energy she needs to last the day.
She also snacks during the day, but it doesn't mean that she consumes unhealthy foods because she doesn't. Even her snacks consist of healthy foods like almonds and dark chocolate. Lunch depends on her mood, but usually healthy, too. For dinner, she eats a piece of grilled salmon or hormone-free, organic chicken with vegetables and also quinoa. From time to time, she also drinks a glass of green juice. Just like other young stars, Phoebe also has cravings and it usually is almond butter. She's also into vegan banana ice cream. Interestingly, she runs her own wellness website Your Zen Life among fellow Aussie actress Teresa Palmer.