Early Career and Success in Film and Television
Christina Applegate was born on November 25, 1971 in Hollywood, California to record producer and record company executive Robert William "Bob" Applegate and singer and actress Nancy Lee Priddy. Her parents had separated shortly after she was born. She has two half-sisters, Alisa and Kyle, from her father's remarriage.
When she was just three months old, she made her first television appearance with her mother in the soap opera Days of Our Lives. Her big screen debut came when she was seven with the 1979 film Jaws of Satan. Her next film came two years after with 1981's Beatlemania. She later made a guest appearance in the TV series Father Murphy.
In 1983, she played young Grace Kelly in the made-for-television film biopic Grace Kelly. During the next few years, she landed guest spots in such television shows as Charles in Charge, Silver Spoons, Still the Beaver and Amazing Stories. She was then cast as Robin Kennedy, a police officer's daughter in the police drama series Heart of the City.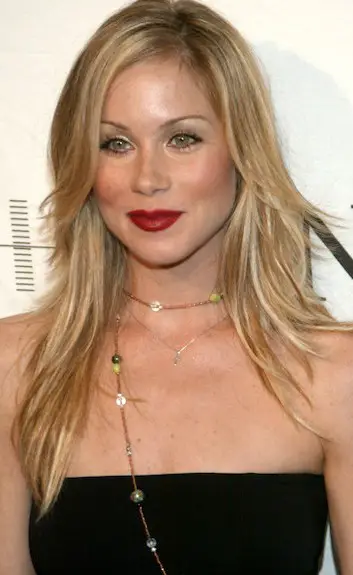 She made her breakthrough in 1987 after being cast as Kelly Bundy in the sitcom Married… with Children. She instantly achieved mainstream recognition for her role, receiving the Young Artist Award for Best Young Actress in a Comedy Series in 1989. She played the character until the show's finale in 1997.
While doing Married… with Children, she also appeared in several films, beginning with the 1990 film Streets. The following year, she played her first starring role in a mainstream movie as Sue Ellen Crandell in the black comedy feature Don't Tell Mom the Babysitter's Dead.
During the next few years, she starred in several motion pictures, including Vibrations (1995), Wild Bill (1995), Mars Attacks! (1996), Nowhere (1997), Jane Austen's Mafia! (1998) and The Big Hit (1998). It was also in 1998 that she landed the role of Jesse Warner in the sitcom Jessie.
The series was met with rave reviews, for which she won the People's Choice Award for Favorite Female Performer in a New TV series and the TV Guide Award for Star of a New Series. She was also nominated for a Golden Globe for Lead Actress in a Comedy for her portrayal of the titular character. Despite the show's positive reception, it was still cancelled in 2000.
In 2002, she gained wider recognition for playing Courtney Rockcliffe, Cameron Diaz's best friend in the romantic comedy film The Sweetest Thing. The feature garnered negative reviews from critics but was a moderate box office success, earning $68,696,770 on a $43 million budget.
She subsequently starred in such feature films as Heroes (2002), Grand Theft Parsons (2003), Wonderland (2003), View from the Top (2003) an Surviving Christmas (2004). From 2002 to 2003, she became known for her role as Amy Green, Rachel Green's sister in the hit comedy series Friends. For her guest appearance, she won the the Primetime Emmy for Best Guest Actress in a Comedy.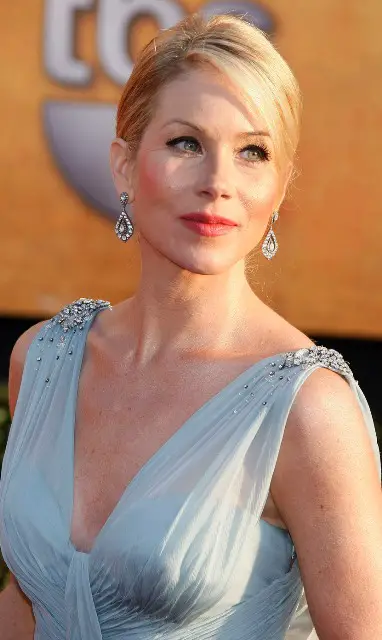 Subsequent Projects, Personal Life and Plastic Surgery
She also gained mainstream fame for her role as Veronica Corningstone in the 2004 comedy film Anchorman: The Legend of Ron Burgundy. The film was generally praised by critics and became a box office success, earning $90,574,188 on a $26 million budget. She reprised her role in the film's sequel, Anchorman 2: The Legend Continues (2013).
In addition to her screen work, she has also performed on stage in such productions as The Axeman's Jazz, Nobody Leaves Empty Handed, and The Runthrough. In 2004, she made her Broadway debut, playing the title role of Charity Hope Valentine in a revival of the 1966 musical Sweet Charity.
In 2008, it was reported that Applegate was diagnosed with breast cancer. She then announced cancer-free after undergoing a double mastectomy, even though cancer was found in only one breast. Her mother is also a breast cancer survivor. Of the surgery she underwent, she admitted to missing her breasts, saying "I miss my exquisite breasts sometimes", referring to a line about her breasts in the comedy film Anchorman.
The actress has also been rumored to have undergone a face lift because of her youthful appearance. If the 42-year-old actress hasn't gone that far to having a face lift, observers believe she may have had Botox injections. Laser skin treatments and chemical peels are also a possibility. These treatments can reduce the signs of fine lines and wrinkles and help maintain a youthful complexion.