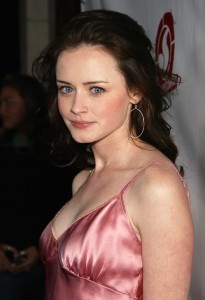 American celebrity Alexis Bledel started strong as an actress, making her debut as one of the leads in the popular television series Gilmore Girls, which ran from 2000 to 2007 for seven seasons. This significantly boosted her career and made her a household name. As a movie star, she began her career in Tuck Everlasting released in 2002. She became a more prolific film star with performances in well-known feature films such as Sin City, The Sisterhood of the Traveling Pants, and its sequel The Sisterhood of the Traveling Pants 2. Before the decade ends, she starred in the movies The Good Guy and Post Grad. In the 2010s, she acted in several other movies, most notably in The Conspirator, The Kate Logan Affair, and most recently in Jenny's Wedding released in 2015. In addition, she was cast as the lead on the television series Us & Them, but it was cancelled even it began to air.
The 34-year-old star has been onscreen since the 2000s where people first recognized her as the baby-faced actress. Amazingly, more than a decade later, Alexis still looks the same. Even her body figure looks the same. Standing at 5'6, she sure is notable for her tall and slim stature. But her fans wonder, how can the actress maintain her incredible-looking physique after all these years? Basically, Alexis eats healthy everyday by doing her best to prepare her own meals to make sure all ingredients are naturally healthy.
Alexis said that she eats very healthy, organic, local foods that's why she always ends up preparing her own foods rather than going out to eat, which of course, is less healthy. However, she doesn't mind going out for drinks. As she said: "I prefer to go out for a drink because in that case you pretty much know what's being poured into your glass, as opposed to what's going into your food." Despite preferring organic foods, the actress also craves for pizza from time to time and she doesn't deprive herself of that.